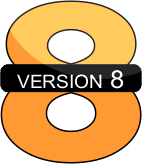 For Consumers, Clients & Coaches!
Customizable Themes!
A.I. Suggestive Engine!
Dynamic Workout and Nutrition Tracking!
Coach channels, programs and news feeds!
WE ARE ECSTATIC TO BRING YOU EFITX 8!
EFITX HAS BEEN REVAMPED FOR 2019!
While most 'other' apps have been providing the basics: Exercise Tracking, Instructional Videos with a few to offer basic Nutrition Monitoring, our team chose to go deeper! The all new EfitX 8 is extremely robust with features that you'll be able to visualize your progress and understand how you've gotten there. Our EfitBot A.I. engine continually gathers statistics and historic data thus evaluates the content in scientific detail! The A.I. will adjust your programs accordingly to assure you will be achieving optimized results. When you integrate your EfitX module with a coach or coach program you may see fitness results FLY regardless of your fitness goal! ... And did we mention that EfitX is now customizable with beautiful user themes?

HEY COACHES!
We are back with supporting fitness coaches with Dynamic Coach Integration: Create unlimited number of workouts and sell them online on your own personal channel! Communicate to your clients through your own news feed! Create your own professional business web-app and integrate EfitX client workout tracking! Artificial Intelligence tools will assist you on providing client fitness support like never before!

Enroll today while it's still free!
CONSUMER/CLIENT FEATURES
Color Customizable Themes
Recent Muscle View
A.I. Assisted Exercise Suggestions
Consumption vs. Expenditure View
5 Expenditure Overview Graph
Proprietary Volume Tracking
Volume Multi-View Graphs
5 Option Workout Input Method
Over 600 Classified Movement Exercises
Historic Data Search
Create Custom Records
Proprietary Body Weight Factor Calculations
Over 400 Instructional Videos
Button Select Method
Displays Personal Bests (P.R.s)
Displays Volume Progress Graph
Variety Coach Programs Subscriptions
Cardio calculates Target Heart Rate
Cardio module calculates calories expended
Cardio Progress Graph
Lifestyle Activity Input Options
7500 USDA Food Database
Custom Food Database
Nutrition Label View
Daily Total Label View vs. Goals
Menu Creation (coming soon)
Featured and Tutorial Videos
Direct Wall Messaging & Coach News Feed.
COACH FEATURES
Includes all client features
Electronic Session Confirmation
Electronic Session/Invoice Tracking
Custom Coach Channel
Subscription Series Modules
Unlimited Client Modules
Extensive Assessment Settings
Program Development Interface
Embed YouTube Videos
Programming up to 3-Day/3-Phase
Payment Gateway Enabled
Logo Branding
COACH PROMOTIONS
Fully Responsive Web-App/Site
DIYS - WebBuilder with PMK
Integration to EfitX (Branded to their business name)
Free Ongoing Promotional Support on PageMall.com (coming soon)
---
© Web Wizzy, Inc.